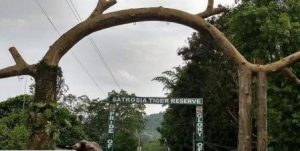 Bantala: With drastic reduction in National Tiger Conservation Authority (NTCA) grants to Satkosia Tiger Reserve in Odisha following the death of male Royal Bengal Tiger Mahavir, the future of the reserve looks uncertain.
Following the death of the male big cat that was brought to Satkosia Wildlife Sanctuary translocated from Kanha Tiger Reserve in Madhya Pradesh, India's interstate, wild-to-wild translocation of tigers have taken a backseat.
Satkosia reserve authorities, meanwhile, remain uncertain about the future of the park as the National Tiger Conservation Authority (NTCA) has reduced the amount of financial grant to the sanctuary.
As against an annual allocation demand of Rs 15.96 crore from NTCA, the tiger reserve has received only Rs 3.82 crore in 2020.
This has directly affected the sanctuary management and security system. The sanctuary authorities are unable to pay the salaries of employees and had to dismiss about 207 contractual guards engaged here.
The contractual workers who guard the reserve round the clock in the forest are paid salaries from the NTCA grant. With this drastic cut in funds, development work in the sanctuary have been disrupted and the reserve administration has dismissed 270 squad members from Dhenkanal, Athamallik, Athagarh, Angul, Mahanadi Forest areas from their work.
The guards had been keeping a close eye on wood smugglers, movement of elephants and tigers, and wild animal poachers. The dismissal of such a large number of guards has put an adverse effect on the security of the tiger reserve.
Field Director of Satkosia Tiger Reserve Pradhip Raj Karate, also the RCCF (Angul circle), said he had submitted a proposal of Rs 16 crore for the tiger reserve from NTCA but the latter granted only Rs 3.82 crore for the current financial year. In the last fiscal, NTCA had provided Rs 15.97 crore for development of the reserve.
"With this drastic cut in funds, development work in the Tiger Reserve has been disrupted. It is difficult to pay the guards with this meager allocation. The DFO had to dismiss over 270 guards amid fund crunch," Karate added.
PNN