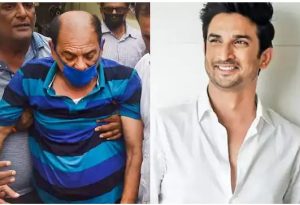 Mumbai: Ever since Kedarnath star Sushant Singh Rajput's death, his fans, family and friends have been continuously demanding justice for the actor. Mumbai police is minutely investigating the case.
But so far no disclosure has been made about the case. However, till now there was no response from Sushant's family regarding this matter. But recently, a Twitter account of Sushant's father has surfaced, through which he is demanding justice for his son.
In fact, recently a Twitter account named KK Singh has surfaced. This Twitter account is believed to be Sushant Singh Rajput's father. There have been some tweets from this Twitter account, which are going viral. These tweets demand justice for Sushant. Simultaneously, a CBI inquiry has also been demanded in the case.
Also read: https://www.orissapost.com/shocking-was-sushant-singh-rajputs-ex-manager-disha-salian-pregnant-with-sooraj-pancholis-child/
A tweet from this account which is becoming the most viral reads, 'My son Sushant Singh Rajput was very brave. I know he can never commit suicide. An attempt is being made to make it look suicide. I request that there should be a CBI inquiry into the whole matter. Apart from this, some film industry celebrities have also been criticized in other tweets.



मेरा बेटा सुशांत सिंह राजपूत बहुत बहादुर था।
मुझे मालूम है वो कभी आत्महत्या नहीं कर सकता। उसकी हत्या करके आत्महत्या साबित करने की कोशिश की जा रही है।
मैं निवेदन करता हूँ कि पूरे मामले की CBI जांच होनी चाहिए।




— K.K Singh (@K_KSingh_) July 2, 2020



Apart from this, many more tweets have been made from this account. In which continuous CBI investigation and justice for Sushant are being talked about.
Another tweet states, 'A report is coming that the he receiving threats on the phone before the murder or suicide of Sushant. Sushant changed 50 SIM cards in the last one month. Every time there was a threat on the new number, a CBI inquiry is an only option, a CBI inquiry should be done or not?



एक रिपोर्ट ये आ रही है कि सुशांत सिंह राजपूत की हत्या या आत्महत्या से पहले इसे फ़ोन पे धमकियां मिल रही थी।
सुशांत ने पिछले एक माह में 50 सिम कार्ड बदले। हर बार नए नंबर पर धमकी आती थी, CBI जांच ही एक विकल्प हैं CBI जांच होनी चाहिए।। हा/ना..??




— K.K Singh (@K_KSingh_) July 1, 2020






कितने लोग चाहते हैं की सुशांत सिंह की हत्या की CBI जांच होनी चाहिए।




री ट्विट करकै अपना समर्थन दें।




— K.K Singh (@K_KSingh_) July 1, 2020



However, this is a new account from which only 16 tweets have been done so far. All tweets have been made between July 1 and 2. The profile picture of the account has a picture of Sushant and his father. So instead of the cover picture, the picture of the whole family is replaced. Although these photos are easily found on Google, it is difficult to say whether this is really the profile of Sushant's father or not?
Significantly, actor Sushant Singh Rajput committed suicide by hanging himself in his Mumbai home 14 June. There is no information about why he took this step. However, the files and medicines found from his room showed that he was going through depression. And it is believed to be the reason behind taking these steps till now. However, the police is currently investigating the case.